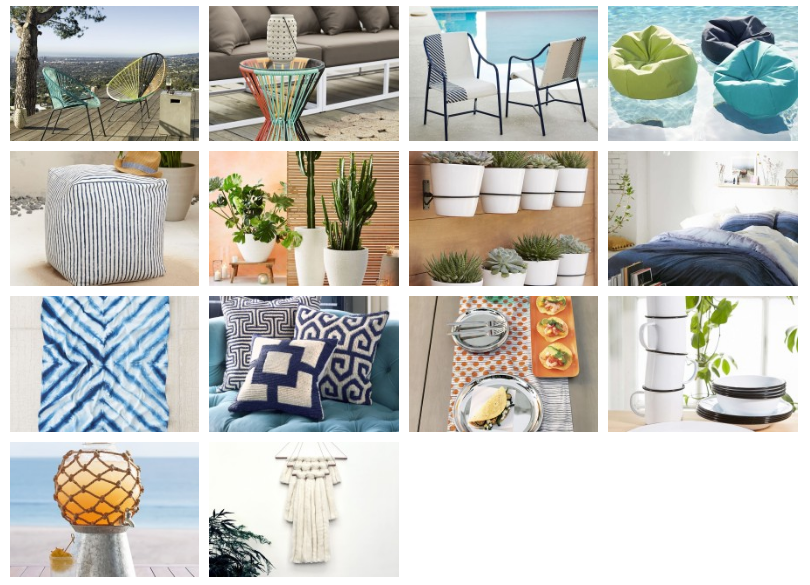 Ad
Summer Style: Brand New Decor with Seasonal Flair
The summer collections are trickling in, folks! After all, in the world of retail, merchandise arrives weeks (and even months) ahead of the upcoming season. Today we're highlighting a few of our favorite new finds with summer style, from outdoor furniture to the latest in modern planters. Use the images below as design inspiration for your next redecorating project, or click on the links for purchasing information if you're in the shopping mood. Without further ado…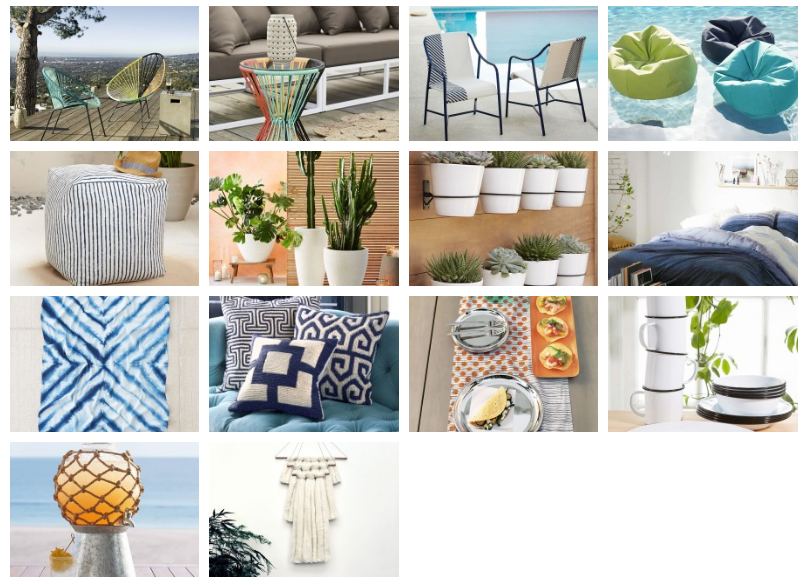 Woven Furniture
One of today's most popular trends is woven furniture, and when crisp, bright colors are involved, you couldn't have a more perfect look for summer. Below we see the Mast Bistro Chair in Colorblock from West Elm, which adds nautical flair to your outdoor space with a dash of color blocking!


CB2 offers some sculptural seating options in vibrant shades, including the Acapulco Outdoor Lounge Chair (below, left) and the Ixtapa Blue Outdoor Lounge Chair (below, right). The look is undeniably modern, but there's a definite hint of '50s resort style. PVC cord and powdercoated steel tube frames are the materials of choice:

Poufy Seating
Extra seating in the form of beanbags and poufs is a popular, often budget-friendly way to accommodate guests. Take it up a notch with the Kai Seat Lounge from Pottery Barn, which floats in the pool and provides hassle-free comfort, thanks to Sunbrella marine fabric:


The Outdoor Stripe Pouf from West Elm can be used as a footrest or a handy stool. With hand-drawn style in the oh-so-popular shade of indigo, this seating statement is a true conversation piece. More on indigo in the next section…

Indigo Appeal
Indigo made a big splash this spring, and it shows no signs of letting up as summer approaches. Add classic shades of blue and white to your bedding with the Monika Strigel for DENY Within the Tides Duvet Cover, available at Urban Outfitters. Inspired by the ocean, this soothing print is duvet-perfect, but if you're looking to introduce a smaller amount of indigo style to your boudoir, opt for the Pillowcase Set.


What do you get when you add hand-dyed indigo style to a vintage textile? The Riverside Tool & Dye Hand-Dyed Inverted Diamond Linen Blanket from Urban Outfitters! There is only one of these beauties available, so act fast if you have a gut feeling that this hand-dyed masterpiece belongs in your home:




Hand-dyed coco beads embellish the Mykonos Pillows from Jonathan Adler. At the front of the pack in the next image is the Mykonos Nixon Pillow. The best part: these pillows bring a Boho chic touch to bold geometric motifs! Call it an earthy take on Hollywood Regency.

Potted Succulents
Succulents are currently at the forefront of modern design. They're dominating DIY projects and photo shoots featuring modern eclectic interiors, and the best part is their affordability! Give them a special perching place with these Ridged Stone Planters from West Elm, available in small, large and tall sizes:


What better way to dress up a wall than to adorn it with pots of fresh, green succulents! These Wall Planter Hooks from Crate & Barrel beautifully accommodate the brand's small Festive planters, and an anti-rust finish makes them perfect for the outdoors.

Durable Dinnerware
Summer is the time for dining outdoors. If you're looking for dinnerware that's rough and tumble with a touch of chic style, check out these Stainless Steel Plates from CB2. They're unbreakable and in some ways a step above melamine, so trade in your plastic for polished stainless steel this summer!


Enamelware is making a comeback. And it's not just for camping or cabin dining! This Enamelware 16-Piece Starter Kit from Urban Outfitters has a contrasting black trim and includes four mugs, salad plates, bowls and dinner plates. Carbon steel coated in porcelain enamel provides the perfect level of sturdiness. Yes, these pieces are oven, freezer and dishwasher safe!

String and Knots
There's a macrame/wall hanging trend that's taking center stage when it comes to modern and Boho chic interiors. This summer is the perfect time to dabble in the handcrafted look of string and knots, and there's no better way to channel seasonal style than with this Rope Buoy Outdoor Drink Dispenser from Pottery Barn. It's inspired by the floating glass globes that rested at the edge of fishermen's nets. While this drink dispenser is acrylic, if you prefer glass, you can embellish any dispenser with rope and knots by involving some simple macrame techniques!


Why not add a fresh, modern flourish to your wall this summer with this white Wall Hanging by Elkeland, available through Nannie Inez?! Merino wool and copper hardware create a new take on a retro craft. Yes, we're in the middle of a full-blown wall hanging revival, folks!


Do you have any favorites from today's featured summery finds? Share your thoughts by leaving a comment below…