Ad
Sew up these Easy DIY Phone Charger Holder in almost no time as a cute way to keep your phone near your charging outlet without having to worry about cords to trip over!


It doesn't take long to sew this up, you can make one up in about 30 minutes! And don't be nervous about the little grommet at the top – that couldn't be easier to install. You don't need any tools!
Note: I don't really recommend hanging this for any length of time from your charger, you don't want to put a ton of weight on that. I keep a Command Hook next to my outlet and hang it there – it's super convenient and doesn't put any stress on your charger or the outlet!


This sweet little pocket all dressed up with a bow is the perfect size for holding your phone, tucking in your charging cord, and even a set of earbuds! Wouldn't that be a fun gift? A cute little wall charger holder and a matching set of earbuds!
Let's get started!
Materials: (contains affiliate links)
Fabric

Main Front and Back – 2 pieces 10 1/2″ x 6″
Pocket Front and Back – 2 pieces 7″ wide at top and 6″ wide at the bottom, and 5″ tall

Fusible Fleece – one piece 10 1/2″ x 6 and one piece 7″ x 5″
Ribbon – 10″
Pom Pom Trim – 30″
1 Plastic Curtain Grommet

Sew the two pocket pieces together just along the top edge, with right sides together and a 1/4″ seam allowances. Fold the pieces so the right sides are out and press.


Sew the ribbon 3/8″ down from the top edge, along both sides of the ribbon. Form a little bow with the extra ribbon and hand sew the bow in place.


Place the front pocket on the front main piece (the one with the fusible fleece on the back side) and line up the bottom edge and the sides. Sew the sides and bottom down with a 1/4″ seam allowance. Because the top of the pocket is wider, the pocket will stick out from the main piece just a bit.


Pin the back main piece to the front main piece so that the right sides are together. Sew around the sides and leave an 2″ opening on one side, above the pocket. Turn the holder right side out through the opening. Press everything, then hand sew the opening closed.


Put the plastic curtain grommet in place, following the instructions on the package. These just snap into place, super easy. There are lots of grommets in the package so it works out great to make up a bunch of these for friends!


And that's it! You have a super cute place for your phone while it's charging – and a super safe place too!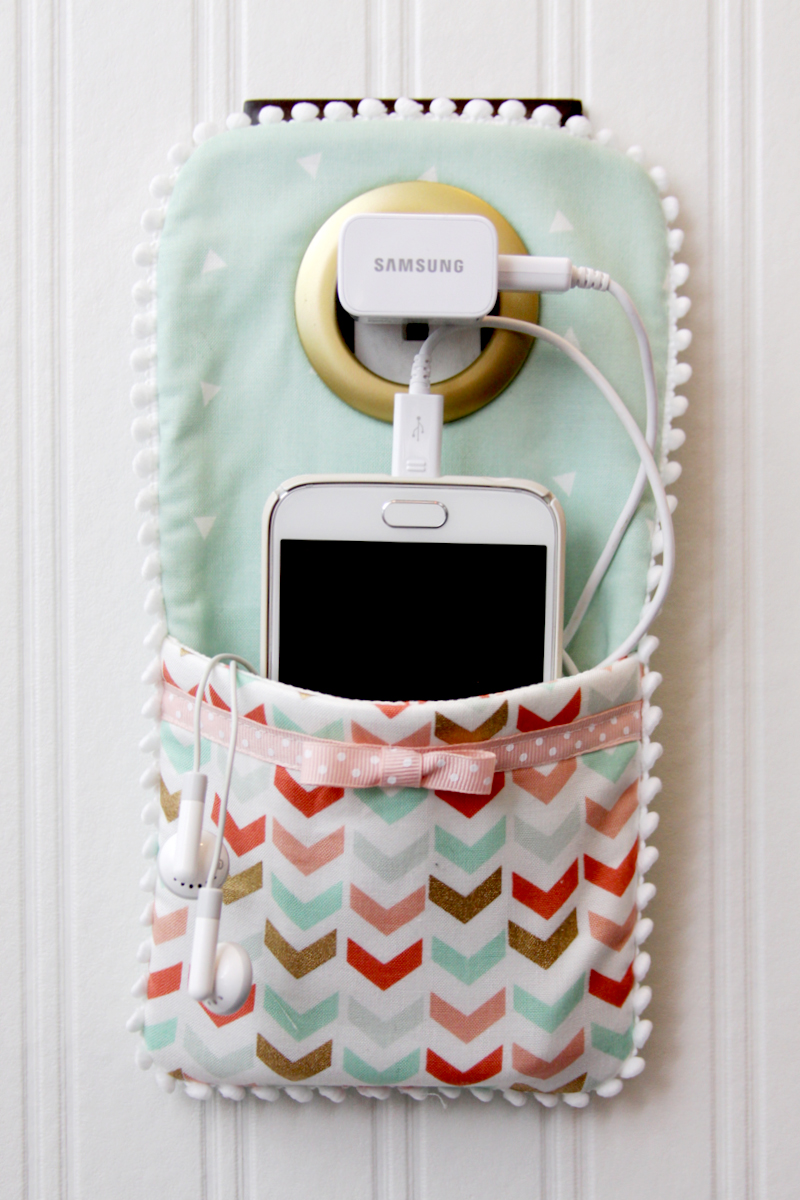 I'd love to see a photo if you make one!
You may also like